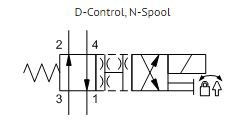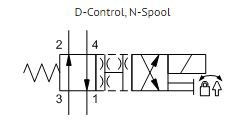 SUN HYDRAULICS 4-way, 2-position, solenoid-operated directional spool valve (DNDADNV224)
This solenoid-operated 4-way, 2-position cartridge is a direct-acting, balanced spool directional valve.
The solenoid tube assembly is fatigue rated for 5000 psi (350 bar) service.
This valve is direct actuated and requires no minimum hydraulic pressure for operation.
Cartridges configured with EPDM seals are for use in systems with phosphate ester fluids. Exposure to petroleum based fluids, greases and lubricants will damage the seals.
On models equipped with the D or L control, the detent mechanism in the manual override is meant for temporary actuation. The D, L and T manual control assemblies have a mechanical life expectancy of approximately 7,000 cycles.
Description
Flow – 40 lpm
Pressure – 350 bar
Coil Voltage – 24 VDC
Cavity – T- 31A