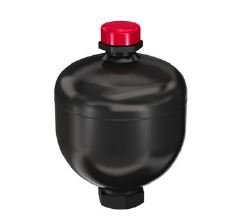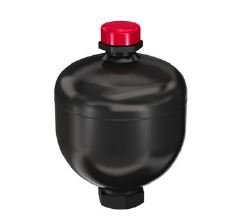 OLAER/PARKER Standard Diaphragm Accumulator (ELM 1-350/90 A F)
Operation of the OLAER gas loaded diaphragm accumulator is based on the considerable difference in compressibility between a gas and a liquid, enabling a large quantity of energy to be stored in an extremely compact form. This enables a liquid under pressure to be accumulated, stored and recovered at any time.
Description
Nominal Volume – 1 ltrs.
Operating Pressure – 350 bar
Maximum pressure differential (P2/P0): 8:1
Nitrogen gas pressure : The maximum pressure (PS) with nitrogen purity > 99.8% N2 class 2.8, is indicated on the accumulator.
Temperature range
Temperature range from -10 °C to +80 °C
Other ranges on request.